Hi Everyone!
Recently, I've been really thinking about clearing out my stash and actually using all of my products I've acquired.
Out of all of this re-discovery of products, I thought it'd be helpful, at the very least to me, to take pictures of all the colors of blush I currently own, just for future reference! I've split them into similar color categories to be even more organized.
Coral/Peach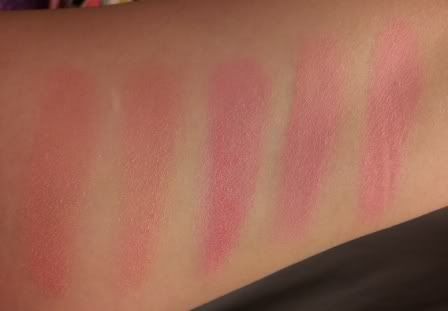 Clinique Peony, e.l.f. Blush (Blush/Bronzer duo), Ulta Heartbreaker, The Balm Fratboy, MAC Mighty Aphrodite
Coral/Orange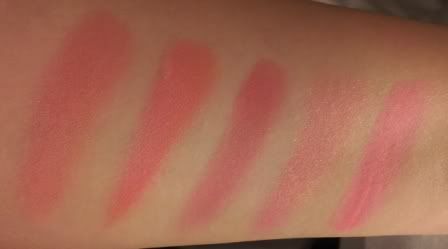 Hard Candy Skinny Dipping Fox in a Box, MAC Modern Mandarin, NARS Torrid, Sleek Rose Gold, Tarte Tipsy Amazonian Clay Blush
Light to Midtone Pinks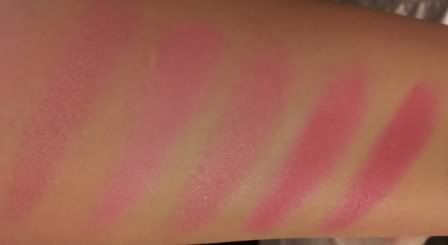 MAC Blonde Mineralize Skinfinish, MAC Lovecloud, Benefit Bella Bamba, Sleek Flamingo, MAC Dollymix
Neutrals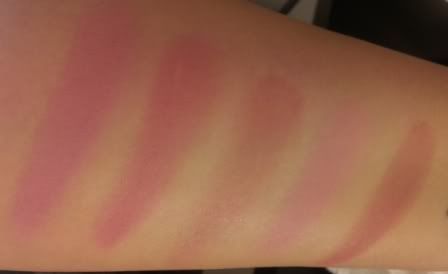 MAC Pink Cult, MAC Mocha, Clinique soft rose color, Benefit Hervana, Tarte Exposed Amazonian Clay Blush
Bronze/Plums
MAC Peachtwist, MAC Worldly Wealth, MAC Star Wonder Mineralize Skinfinish, The Balm Cabana Boy, MAC Plum Foolery
Magenta/Reds
MAC Supernova Mineralize Blush, Tarte Natural Beauty Amazonian Clay Blush, La Femme Brick Red
Cool Pink/Purples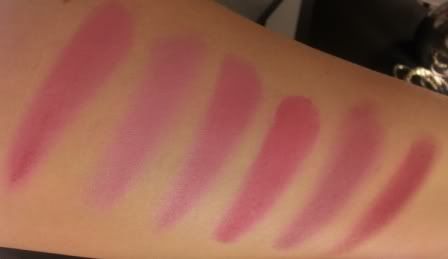 MAC Coygirl, MAC Vintage Grape Blush Ombre (Light), MAC Overdyed, Tarte Flush Amazonian Clay Blush, MAC Vintage Grape Blush Ombre (Dark), Milani Plum Parfait
My favorite blushes definately have to be the Tarte Amazonian Clay blushes; They wear for such a long time, and I definately prefer their more matte appearance and blendability.
Second, you could probably guess that I also love MAC blushes! I've got quite a different finishes, and they're all a dream to work with. I love that even some of the 'sheertone' blushes are still plenty pigmented and are easily buildable.
How many blushes do you own? What are your favorites?